AMENITIES INCLUDED WITH YOUR MEMBERSHIP: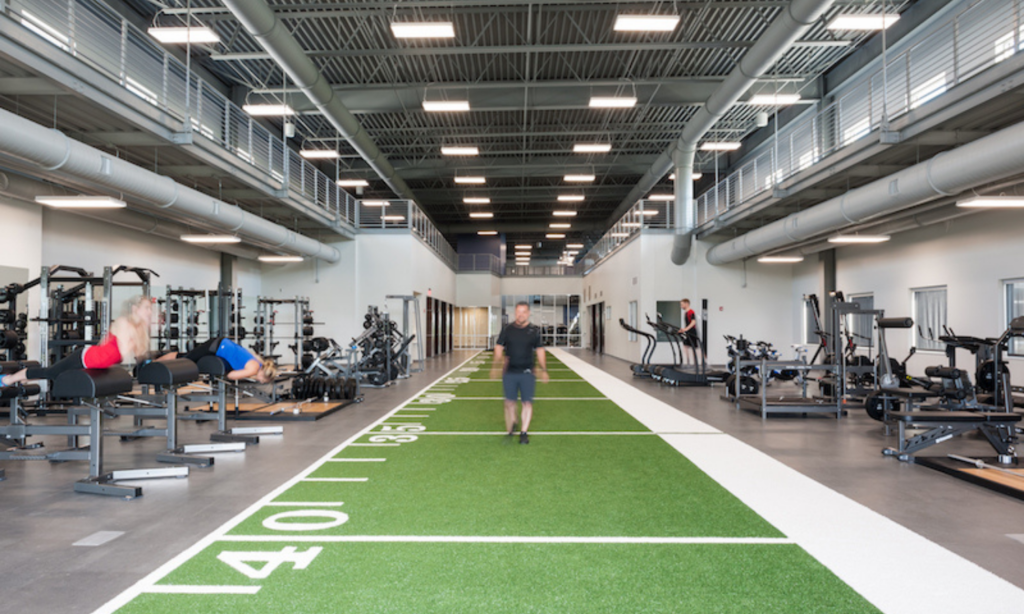 TRAINING AND PERFORMANCE CENTER
Included with all memberships is facility access to our 15,000 sq. ft. sports performance center. Have a young athlete? Enroll your child in our renowned youth speed, agility, and strength program. Adults - get in a good workout with extra motivation in our coach-led group strength and conditioning sessions.
*Additional fee applies to youth and adult programs.
Visit the TPC Website.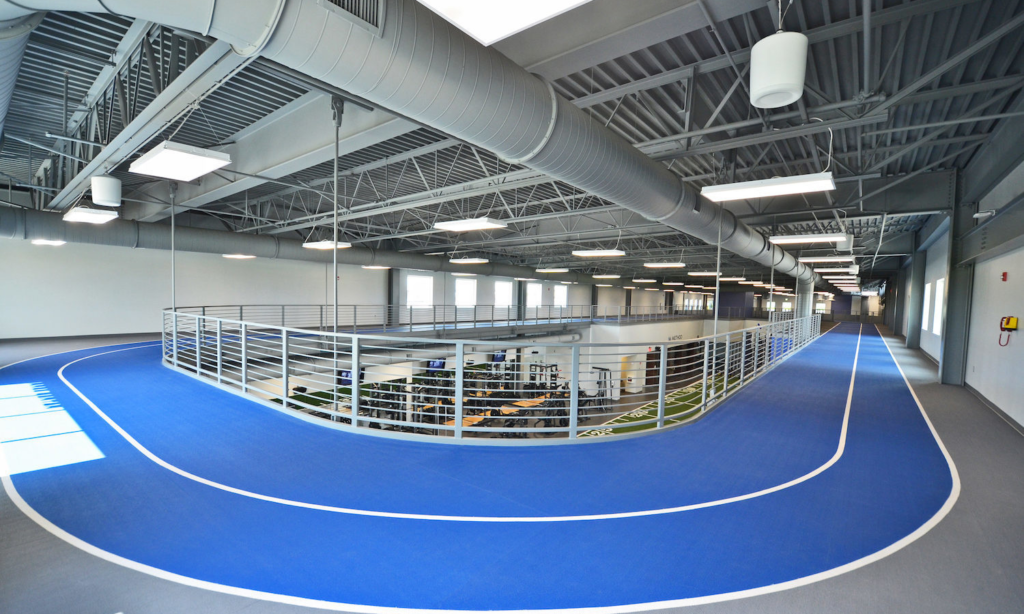 INDOOR TRACK
Escape the heat in the summer and cold in the winter with our indoor track. Our suspended track, measuring 1/12th mile around, is a bright and inviting space for members to enjoy.
LAP POOL
Take a dip in our 25 yard lap pool! Our lap pool is bonded, grounded and dedicated to swimmers and walkers at all times. Our Chemtrol system regulates the temperature at 82-83 degrees.
WARM WATER THERAPY POOL
Feel refreshed after participating in one of our Aqua Pilates, Aqua Yoga or Cardio H20 classes! Research shows that warm water exercises works wonders for all kinds of musculoskeletal conditions, including fibromyalgia, arthritis and low back pain. Our Chemtrol system regulates the temp to keep it at a comfortable 88-89 degrees.
WHIRLPOOL
Take charge of your emotional wellbeing and relax in our whirlpool, located on the pool deck, next to the pools. This Chemtrol regulated whirlpool stays at 102-104 degrees Fahrenheit.
GROUP EXERCISE STUDIO
Attend one of our expert-led group exercise classes. Whether you like to dance, lift, step or stretch, we've got the class for you! All group exercise classes are included with your membership.
CARDIO FLOOR
Be entertained with a wide selection of premium fitness equipment, including treadmills and ellipticals equipped with personal TVs that deliver a fully connected cardio experience. Our TVs provide a personalized mix of entertainment, new challenging workouts and innovative features that are designed to deliver results in a fun and easy way.
STEAM ROOM
Located in both the men's and women's locker room, let off a little steam in our modern steam room.
SAUNA
Unwind after a workout in one of our saunas and sweat out any of your body's toxins.
LOCKER ROOMS
Our modern locker rooms are clean, bright and inviting. Make your workouts easier by keeping your belongings in a complimentary day locker with built in locks. Our locker rooms are stocked with fresh towels, hair dryers and vanity areas.
ZEN ZONE
The Zen Zone includes a space for individualized meditation or one-on-one guided meditations. The room includes sound machine, diffuser, salt lamp, and pamphlet of instructions and guided meditations. In the fall and winter months we will offer our Light Therapy Lamp. This lamp provides 10,000 lux of light and is recommended by physicians for individuals who struggle with Seasonal Affective Disorder (SAD).
WELLNESS SPA
Relax and unwind in our Wellness Spa. Our spa offers both massage and skin therapy services. The Wellness Spa services are open to the community. Discounted pricing is available for members.

Need a gift? Our Gift Certificates are always the perfect fit!
ACTIVITY-BASED CHILDCARE
Enjoy a moment to yourself while we watch your kids! Our activity-based childcare program will provide a safe, secure, supervised environment for children six weeks through 13 years of age. Operating hours coincide with most class times to accommodate your workout schedule.
SHOWERS
Refresh in a private shower and enjoy complimentary shampoo, conditioner and body wash.
MIND AND BODY STUDIO
Learn how to heal your body, heart, and mind through Yoga, Pilates, and Tai Chi in the CHFC Mind/Body Studio. Mind-body practices honor and support whole-person wellness (physical, mental, emotional, spiritual). In addition to cultivating physical strength and flexibility, these practices will also help you manage everyday stress that can lead to chronic disease.
CYCLING STUDIO
Our technologically advanced cycling studio will challenge you while you compete against other class participants in a 30 or 60 minute ride of your life.
CONFERENCE ROOMS
With over 1,800 square feet of state-of-the-art conference space, we are dedicated to making your next meeting as personalized as it is professional.
COMPLIMENTARY COFFEE
Treat yourself to a cup of Joe on us! Complimentary coffee is brewed fresh for our members every morning.
FREE WEIGHT TRAINING AREA
Work your major muscle groups on our resistance equipment or in our free weight training area. Our technologically advanced machines will monitor your range of motion to help prevent injury and track your reps, sets and workload. Research shows that by incorporating strength training into your weekly workout routine, you not only increase your strength and muscle mass, but will also increase bone protection and prevent disease.
RETAIL SPACE
Forget something? We've got you covered! From earbuds to goggles, we've got what you need so you can have the best workout possible. Need a little pre/post workout nutrition? We have a variety of healthy snack and beverage options for you to choose from.
RECOVERY ROOM
Get the most out of your workout! Our recovery room features foam rollers and a Power Plate machine which offers whole-body vibration technology that will speed up your health and fitness benefits so that you can enjoy faster, longer–lasting results.
To learn more about our center, programs, services, memberships, and policies, be sure to check out our FAQs and Membership Policies resources.